Sunrooms | Porch Conversions | Screen Rooms | Pergolas | Patio Covers
Sunrooms from TEMO
"Founded in 1970, TEMO is the largest and most experienced sunroom manufacturer in the country. Throughout our years in business, we have developed many exclusive features that set our sunrooms apart from other products on the market, including our TEMKOR surfacing. This groundbreaking cladding material is impact, UV, dent, fade, and scratch-resistant and never requires any maintenance. At TEMO, we have perfected the art of crafting elegant sunrooms that truly stand the test of time" For complete information on TEMO sunrooms, stop in our showroom located in downtown Beloit at 319 State St.
TEMO sunrooms has a variety of sunroom styles that can fit your home, budget, and lifestyle.
Studio Sunroom
The Studio Roof Style Sunroom has roof with a single pitch that slopes away from the home. This is the most popular style and can usually work on any home.
Cathedral Sunroom
The Cathedral Style Sunroom features a roof that has equal sloping sides that meet at the ridge in the center. This can make the sunroom look and feel more spacious.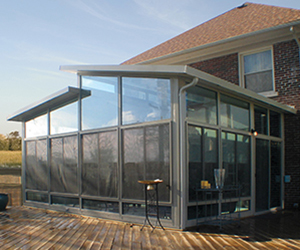 California Sunroom
The California Sunroom features a spilt level roof for a modern or contemporary look.
Santa Fe Sunrooms
The Santa Fe Style Roof features a Southwestern flare using Pergola accents.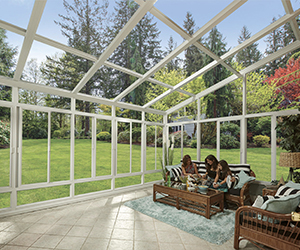 Solarium Sunroom
Get the ultimate day & night experience of being outdoors while being protected from the outside elements. This classic all-glass sunroom features UV protection from the sun. It will stay cool in the summer and warm in the winter.
Upper Deck Sunroom
An upper deck sunroom from TEMO will enclose the second-story deck area at your home, giving you additional living space where you can relax while remaining protected from the elements.
Grandview Sunrooms
Get the ultimate backyard experience while being protected indoors. Grandview features 80-inch double sliding windows that provide an unobstructed view, refreshing floor-to-ceiling ventilation, and the ultimate backyard experience while being protected indoors. Lots of options available: Studio, Cathedral, Upper Deck or Lanai / Porch Makeover (Walls Only).
Custom Sunrooms
All our Sunrooms are customized to match your home. However, if you have a vision, the sky is the limit here. We offer two-story sunrooms, or any combination of our products, I.E., a Sunroom with a Pergola or Patio Cover. We would love to make your dreams a reality. Tell us what you envision and we can do our best to make it happen.
Porch Makeover - Lanai/Veranda
Do you have an existing covered porch, deck, or patio that has limited use because it is too hot, cold, or the bugs drive you crazy? Enjoy the outdoors year-round with our "Walls Only" option. Installation is quick and easy. The "Walls Only" can usually be installed in a couple of days.